Why Poland is campaigning for a new antitrust investigation against Gazprom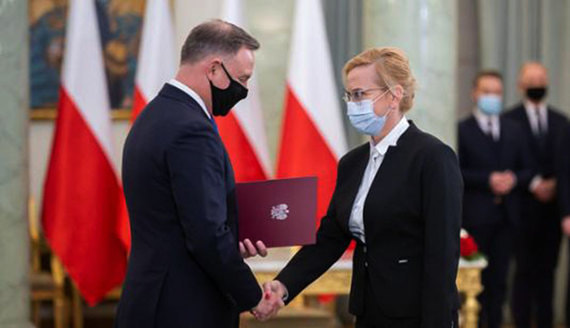 The European Commission (EC) needs to initiate a new antitrust case against Gazprom. "There are a lot of tools in the antitrust investigation, the EC is well able to do it," she said.
Moscow added that Poland does not understand why the EC has not yet seen these grounds. She also stressed that Warsaw sent additional materials to the EC in this case in December 2021 and hopes that there will be enough. According to the Minister, she also intends to meet with EU Commissioner for Energy Kadri Simson in the near future to insist on this.
This is not the first time that Warsaw has appealed to the European Commission with accusations against Gazprom of violating European antitrust rules.
In 2012, at the request of a number of Eastern European countries, including Poland, the European Union launched one of the largest antitrust investigations in its history. In 2015, Gazprom was accused of abusing its dominant position in the European market and imposing inflated gas prices. In some cases, the excess, according to EC estimates, reached 40%. The company was then threatened with a fine of up to 10% of turnover, analysts at Fitch estimated it at $ 5 billion. spot.
In 2018, the case was closed, Gazprom managed to avoid a fine. The EC limited itself to regulations that required the company to comply for 8 years. Among other things, Gazprom has been obliged to remove contractual restrictions "to ensure the free movement of gas" between consumers in Central and Eastern Europe, and to connect the isolated gas markets of Bulgaria, Estonia, Latvia and Lithuania with neighboring EU gas markets so they can resell their gas. countries or buy raw materials there. Alexander Medvedev, Gazprom's deputy chairman, said he was satisfied with the EC's decision, calling it "the most acceptable outcome for the entire European gas market."
A year later, in September 2019, the EU court upheld a lawsuit filed by Poland's state oil and gas company PGNiG. She demanded the repeal of the EC decision from 2016, which allowed Gazprom to load up to 90% of the capacity of the OPAL gas pipeline passing through Germany and the Czech Republic, which is a branch of the first Nord Stream. In 2016, the EC allowed Gazprom to bid for 40% of the transit capacity of the Opal pipeline (12.8 billion cubic meters), while retaining its exclusive right to use another 50% of the pipeline's capacity. But Warsaw challenged the decision. And in 2020, PGNiG in the Stockholm Arbitration Court revised the terms of the so-called Yamal contract (1996 agreement on supplies of the Yamal-Europe gas pipeline) with Gazprom. The price of gas has been listed retrospectively since the lawsuit was filed in 2014 and the Russian gas monopoly had to pay PGNiG $ 1.5 billion.
In 2021, Europe entered the heating season with a record shortage of gas in underground storage facilities and very high prices for it. According to Gas Infrastructure Europe (GIE), on December 7, European storage facilities were filled by only 65% ​​(70 billion cubic meters) against 94% on the same date in 2020. According to the Intercontinental Exchange ICE, the Dutch hub TTF December 9 price January gas futures were about $ 1230 per 1,000 cubic meters. m.
In this situation, it is the requirement of the EC to rebind Gazprom's long-term contracts and the transition from an oil benchmark to spot gas prices that is now leading to rising prices even in Russian monopoly agreements. The gas crisis in Moldova this autumn was caused by the fact that Chisinau was not ready to sign a new long-term contract with Gazprom with a spot price, because then the price of gas for the country increased several times. Moldova eventually persuaded the supplier to keep the mixed contract in a new contract with partial consideration of oil prices.
Rising gas prices, which began rapidly in late August, led to higher prices for all fuels, provoking an energy crisis in Europe. At the same time, Gazprom, fulfilling its obligations under its long-term contracts in full, was in no hurry to increase supplies through Ukraine's GTS and the Yamal-Europe gas pipeline, refusing to book additional capacity through auctions. The company also stopped trading on its electronic platform.
In October, amid rising spot gas prices to almost $ 2,000 per 1,000 cubic meters. m Simson said that EU agencies are already studying the possible link between rising energy prices in violation of antitrust requirements of one of the key gas suppliers in the EU. Gazprom was not mentioned.
In the current situation, Poland is trying to use all its levers to put pressure on Gazprom, Sergei Kazaran, head of the Art De Lex antitrust practice group, told Vedomosti. He suggested that in this way PGNiG was trying to obtain from Gazprom a discount on gas, which it requested in October 2021. Then the company asked to take into account in the formation of gas prices in November "unprecedented increase in gas prices" for gas in Europe (Vedomosti). wrote about it).
Kazaran also noted that Warsaw's statements carefully ignore the issue of the impact on the European gas market of other suppliers, in particular Norway, as well as liquefied natural gas producers.
"Probably, in addition to the fine, Poland will try to get from the EC administrative measures to respond to violations of EU antitrust rules," – said Kazaran. He explained that it is a question of any restrictions on work, which may in one way or another complicate the life of "Gazprom". But according to the lawyer, Poles do not have sufficient grounds to initiate a new antitrust investigation.
Managing Partner of Enterprise Legal Solutions Yuri Fedyukin agrees that the Polish side has no real evidence of such violations. "Warsaw is regularly accusing Gazprom of accusations," he added. According to both lawyers, even if an investigation is launched, the likelihood of serious consequences for Gazprom is very small.
Vedomosti sent a request to Gazprom.