Ukraine "nationalizes" the cars of the largest Russian companies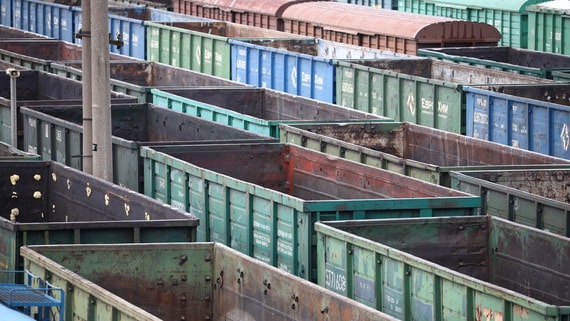 Ukrainian Railways (Ukrzaliznytsia, UZ) intends to nationalize Russian freight cars in Ukraine. This was stated on March 15 by Chairman of the Board Alexander Kamyshin, whose words are quoted on the company's website. "At the first stage, we are compiling a list of car owners who have Russia among their founders. Then there will be the Cabinet of Ministers, the National Security and Defense Council (National Security and Defense Council), and a presidential decree [Украины Владимира Зеленского], and another law of Ukraine. The procedure will take time <...> Determining which of the car owners has a share in the capital of the Russian Federation is also a slow task, "he said.
Kamyshin explained that the law "On Basic Principles of Compulsory Seizure of Russian Property" in Ukraine (Zelensky signed it on March 3 as one of the responses to Russia's special military operation in this country. – "Vedomosti") .
From the presentation of UZ, which was reviewed by Vedomosti, it follows that there are just over 15,000 Russian cars in Ukraine, mostly gondola cars (about 11,000 units) and tanks (about 2,000). Russian cars belong to about 250 companies, about 3,000 units – VTB Leasing, VEB Leasing, Sberbank Leasing, Gazpromtrans and the State Transport Leasing Company (GTLK). In Ukraine, there may also be cars of the "daughters" of Russian Railways – Federal Freight Company (FGC) and Gefco, according to the presentation.
VTB Leasing, Gazpromtrans and GTLK did not respond to Vedomosti's inquiries or declined to comment. A representative of VEB Leasing assured that there are no cars owned by the company in Ukraine.
Vyacheslav Spirov, General Director of Sberbank Leasing, said through a representative that "literally units" of rolling stock in the company's portfolio were operated in Ukraine. "Realizing the risks of using the railway fleet in Ukraine, our customers promptly minimized the presence of their cars there," he added.
According to a Vedomosti source in the Russian operator company, the largest rolling stock operators may suffer from the actions of the Ukrainian authorities: the New Transport Company (part of the Globaltrans group) has 3,000 cars stuck in Ukraine, Novotrans and Balttransservice have 1,000 cars each. , at Eurosib – 700. Small Russian operators also suffered – from 5 to 50 cars were stuck in Ukraine. In addition, there are about 7,000 Belarusian cars and about 1,000 Kazakh cars in Ukraine, "the interlocutor said. The Union of Railway Operators confirmed to Vedomosti that "some of the cars belonging to the union's operating companies are located in Ukraine."
Russian Railways declined to comment, a FGC representative said that the company's cars are not in Ukraine. A representative of Balttransservice did not comment on the situation with cars in Ukraine. But a source close to the company claims that there are no more than 100 of its cars in the country. Vedomosti also sent inquiries to other major car owners, operators and leasing companies.
IPEM Deputy General Director Vladimir Savchuk says that, according to official data from the federal authorities of the Russian Federation, there are about 9,000 freight cars of Russian companies in Ukraine today. "The lack of such a fleet in Russia will be invisible to the market," he said.
Denis Semenkin, Deputy Chairman of the Association of Railway Rolling Stock Operators, notes that it was impossible to remove the cars from Ukraine due to a special military operation. He also emphasizes that these cars have already been used, including for the needs of Ukraine: "They carried goods to ports, border crossings or Ukrainian consumers."
If now in Ukraine there will be a nationalization of cars belonging to Russian private companies, then if the situation normalizes, none of the Russian owners will provide them anymore, warns Semenkin. Shippers who have previously used their own wagons to transport goods will also not do so. "All seaports in Ukraine can simply be closed: neither Russian ore, nor metal, nor oil products will pass through them," he said.
Sergei Uchitel, a partner at the Pen & Paper Bar Association, reminds that in case of nationalization, the former owner must receive some compensation from the state for the seized property. But in this case, in his opinion, there may be expropriation, ie expropriation. The victims (lessors) of the arrested Russian cars will be the victims in such a situation.
Semenkin clarifies that in case of loss of property in the area of ​​hostilities, insurance issued by operators and lessors does not apply, so the owners may not receive any compensation. Vadim Tkachenko, the founder and CEO of the vvCube consulting group, objects: "Theoretically, you can get insurance. But diplomatic relations with Ukraine have been severed and there are virtually no legal instruments to counteract this fact, and appealing to international courts also does not guarantee a result in Russia's favor. "
The teacher does not rule out that the Russian authorities will take measures to provide state support to the affected companies, including the transfer of seized (arrested) Ukrainian cars in Russia as compensation. On March 14, Russian President Vladimir Putin signed a law on measures to support the transport industry under sanctions, which, among other things, gives the right to "hold rolling stock belonging to foreign administrations, including Ukraine and the Baltic states" (Vedomosti reported on March 10 ). But adequate "exchange" will not work. Semenkin reminds that there are only about 500 Ukrainian cars in Russia.
Dmitry Gorbunov, a partner at Rustam Kurmaev & Partners, agrees that in the current environment, Russian companies have few effective legal methods to protect their property. Formally, UZ and the executive authorities act in accordance with the legislation of Ukraine and the owners should apply to the Ukrainian courts, the lawyer explains. They will have to prove that the actions against their property do not comply with Ukrainian law or international agreements (for example, bilateral agreements on investment protection and mutual recognition of rights and regulation of property relations), says Gorbunov.
Another option is to insist on declaring unconstitutional the very provisions that allow the nationalization of the property of Russian companies, Kurmaev said. But in the current circumstances, it is unlikely that Ukrainian courts will make decisions in favor of plaintiffs from Russia, he sums up. The most effective option, in his opinion, is to apply to international arbitration for compensation. This has already been the case, for example, in the case of claims for compensation from Ukrainian businesses against Russia in connection with the Crimean assets, Gorbunov recalls.