The IEA predicts a decline in oil production in Russia in the coming months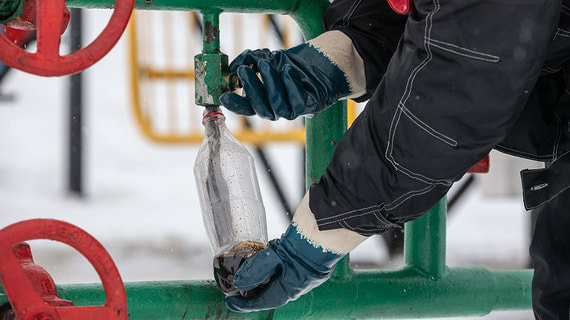 Sanctions due to a special military operation in Ukraine may lead to a decrease in oil production in Russia in April 2022 by 1.5 million barrels per day (bpd) compared to the previous month. This forecast is given by the International Energy Agency (IEA) in a monthly review published on April 13.
According to the IEA, since April 1, production in Russia has decreased by 700,000 bpd compared to March, and this decline will increase to 1.5 million bpd within a month. The IEA notes that Russian refineries continue to cut production, the country's oil storage tanks are filling up, and more and more buyers in the market are giving up raw materials from Russia. In May 2022, against the background of further refusal of buyers of Russian oil, the decline could reach 3 million bpd, the agency predicts.
The forecast may be adjusted later, as there is "strong uncertainty" over oil supplies from Russia, the survey said. In March, according to the IEA, oil production in Russia was at 10 million bpd, taking into account gas condensate – 11.35 million bpd.
The IEA notes that after European and American companies gave up Russian oil, consignments of Russian raw materials were sold at a significant discount on the Asian market. At the same time, the increase in oil exports from Russia to China, according to the IEA, did not occur due to lower demand from Chinese refineries amid a new wave of coronavirus.
According to IEA experts, despite the projected decline in oil production in Russia and disruptions in its supply, there will be no shortage of these raw materials on the world market. This is due to weaker-than-expected growth in global oil demand, as well as increased production in the Middle East, the United States and countries that have not joined the OPEC + deal. In an updated forecast, the IEA lowered its estimate of global demand growth in 2022 from 2.1 million bps to 1.9 million bps. The total demand for oil in the world this year will be 99.4 million bpd, the survey said.
EU consumers and traders have begun refusing to buy Russian oil since February 24, when Russia launched a special military operation. The United States and Britain have officially announced an embargo on Russian oil. The need to consider a similar ban at the EU level on March 21, 2022 was stated by the EU High Representative for Foreign Affairs and Security Policy Joseph Borrell ("Vedomosti" wrote about it on March 22). On March 8, the Anglo-Dutch company Shell and the British BP announced their refusal to buy oil from Russia. Major international oil traders also began to refuse to buy Russian oil, and the discount on the price of Russian Urals oil to the reference brand Brent was $ 20-30 per barrel.
Even at a discount, Russian oil prices are quite high. After February 24, 2022, the price of oil on the global market began to rise sharply. On March 6-8, the price of Brent reference oil approached $ 130 / barrel. On April 13, according to the ICE exchange, the price of the next June futures for Brent supplies reached $ 107 / barrel.
But it turned out that foreign buyers are not ready to withdraw from domestic oil supplies. As early as April 8, Bloomberg sources said that a "Latvian mixture" had appeared on the market: a blend from the Russian Urals and other varieties, allegedly mixed in the port of Ventspils. If the content of domestic oil is less than 50%, such a mixture may not be formally considered Russian. According to agency sources, this scheme was used by Shell. On April 11, Shell confirmed that the company's traders are allowed to buy diesel fuel, which contains hydrocarbons of Russian origin.
According to the IEA, exports of Russian oil by sea in March, however, increased by 440,000 bpd to 3.4 million bps. Total supplies of oil and oil products to Europe fell by 420,000 bps to 1.4 million bps, while supplies to India rose to 310,000 bps (in February there were almost no deliveries to this country) , in China at 70,000 bps to 790,000 bps.
Russian Deputy Prime Minister Alexander Novak said on April 7 that Russia's oil production in April could fall by 4-5% by March due to changes in supply logistics and possible problems with insurance and use of ships.
The Ministry of Energy and CDU TEK have not yet published data on oil production in March. According to an Interfax source, gas condensate production increased by 7.3% by March 2021 and amounted to 46.6 million tons (11 million bpd – "Vedomosti"). Thus, the expected reduction in production by the Ministry of Energy by 4-5% may mean a reduction in April by 440,000-550,000 bpd.
Earlier, experts said that the SVO has become a key factor in creating uncertainty in the oil market. This conclusion, in particular, is contained in the OPEC report of March 15. At the same time, OPEC + member states, including Russia, continue to adhere to the previous plan to increase production by 400,000 bpm monthly to balance supply and demand in the market. But a number of countries are lagging behind this schedule (Vedomosti wrote about this problem on February 2 and March 15, 2022).
The IEA's assessment looks overly pessimistic, given the growth of Russian maritime exports in the first week of April, says stock market expert BCS World of Investment Igor Galaktionov. According to his estimates, the fall in Russian production in a month will not exceed 1 million bpd. The key supporting factor is the high demand for Urals oil from Asian consumers, the expert explains.
Nikita Blokhin, a senior analyst at Alfa-Bank, believes that the forecast of production decline in April by 500,000 – 700,000 bp looks quite convincing against the background of uncertain market conditions. According to the bank, the potential to reduce oil exports from Russia is limited to 1.4-1.5 million bpd, which may be reflected in the April figures, the expert said. An additional factor in the fall in production in May may also be a reduction in demand for oil and petroleum products from refineries and the petrochemical industry, according to Blokhin, but it is not yet possible to estimate the extent of the decline. In general, according to him, the potential for reducing oil production in Russia should not exceed 2 million bpd, which is significantly lower than the IEA forecasts.
Alexander Potavin, an analyst at Finama, notes that different industry experts have "significantly different" estimates of Russia's production. In particular, according to Reuters, oil and gas condensate production in Russia by April 11 fell to 9.76 million bpd, against the level of 11.01 million bpd in March (ie 1.25 million bpd) . In a monthly report, OPEC experts lowered the estimate of Russian production in 2022 by 530,000 bpd, although compared to 2021 levels are still expected to increase. According to Finam, the "falling" volumes of supplies to buyers who gave up Russian raw materials amounted to about 1 million bpd.
Potavin notes that out of almost 8 million bpd of total Russian oil exports, companies are currently unable to find buyers for 1.5-2 bpm. At the end of last week, the discount of the Urals to Brent was about $ 34.5 / barrel, and raw materials with such a discount, he said, are of great interest to buyers from Asia. At the same time, China is not yet seeking new oil contracts with Russia, the analyst said.
He recalls that in early April, the media reported an increase in imports of Russian oil from India, but on April 12 it became known that the country's largest oil company Indian Oil Corp withdrew Russian oil Urals from the last tender. "The official reason is the high sulfur content. But it is possible that India has responded to the US call to abandon the purchase of Russian energy resources, "said Potavin. According to the expert, the supply and demand for oil in the world now look "much more balanced than a month ago."
It may take about 3 months to find buyers in the Asian market and change Russia's supply routes, Blokhin said. He recalls that talks are under way to increase supplies with the Indian government, which saw quadrupled growth last month. There is also significant potential for increased supplies to China. Given the discount, which can be up to 25% of the price of oil in Europe, the free volume of Russian oil will find its consumers in Asia, especially in conditions of shortage in global markets, the expert concluded.
According to Potavin, in the current situation, Russia's falling production volume could reach 1.5-2 million bpd by the end of the second quarter, and this factor will not allow oil to fall sharply in price – in the coming months the price of Brent will be $ 95-110 / barrel .