Sistema JSFC became interested in IKEA furniture factories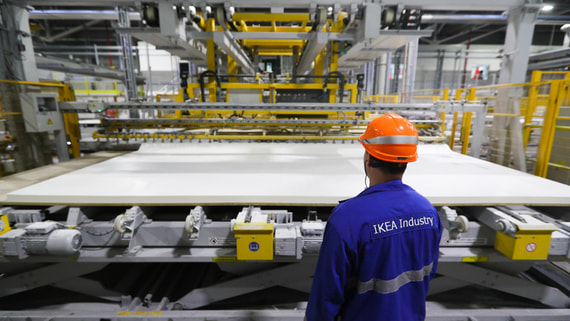 The purchase of furniture factories by the Swedish company IKEA is interesting for Sistema, Vladimir Yevtushenkov, the main owner of the investment company, told Vedomosti. Such a deal could give synergies with the Segezha Group timber holding, he said. So far, Sistema is not negotiating with IKEA, which announced on June 15 the sale of all three plants in the Leningrad, Kirov and Novgorod regions.
Hoff, one of Russia's largest home goods chains, is also ready to consider the assets of Swedish retailer IKEA if such an offer is made, the company's CEO Maxim Grishakov told Vedomosti. This is in line with the company's development strategy, he said, explaining that IKEA and Hoff have intersecting regions of presence and stores are often located in the same malls. Therefore, only factories are meant as potentially interesting assets, a source in Hoff said.
Woodworking companies may be the main contenders for the factories, according to Mikhail Burmistrov, CEO of Infoline-Analytics. In addition to Segezha Group, it could be Sveza, as well as major furniture manufacturers, he added.
Inquiries to Svez, Ascona, Mebel Stil and IKEA remained unanswered.
In its factories, IKEA produced solid wood furniture, chipboard, and cabinet furniture. In addition to furniture companies, its assets will be claimed by investment funds interested in acquiring assets at a significant discount, adds the director of the retail department of CORE.XP Marina Malakhatko.
IKEA, which owns 17 Mega stores and 14 shopping centers in Russia, suspended operations on March 4. On June 15, its press service said that the company does not see the possibility of resuming its activities in Russia due to the deteriorating situation with business processes and supply chains. The company "optimizes" employees in its own production, the IKEA press service said. The number of employees who will be laid off is not specified. IKEA did not make any statements regarding the closure of the retail business, saying that decisions in this segment "remain on hold."
IKEA shopping centers and factories are of great interest to potential investors, says Nikolai Kazansky, managing partner of Nikoliers consulting company. He predicts that the deal will probably be non-market and therefore it is not possible to estimate the value of any asset correctly. However, according to him, IKEA will look for ways to stay in the Russian market, although not on the same scale. Burmistrov believes that the Swedish company will try to complete the complete closure of its activities by the end of the summer.
In talks with individual owners of shopping centers, representatives of the Swedish company do not confirm the final departure from Russia, said commercial real estate expert Anna Savenko. According to her, IKEA is looking for new production facilities in China and is working on alternative logistics chains and routes. The sale of its own factories in Russia can be seen as an act of preserving the company's face to Western society or as optimizing the approach to procurement, if the furniture giant will no longer be a manufacturer but a customer with guaranteed large volumes, she explained. Thus, according to Savenko, IKEA will sell the factories, but will leave IKEA stores and Mega shopping centers. In her opinion, this will not only allow maintaining control over production, but will also give the opportunity to place their orders there at a discount in the event of stabilization of the situation and the resumption of IKEA in Russia. A scenario of selling assets to management or partners is also likely, according to a source in the real estate market.