Russian airlines are preparing to pay for the leasing of foreign aircraft in rubles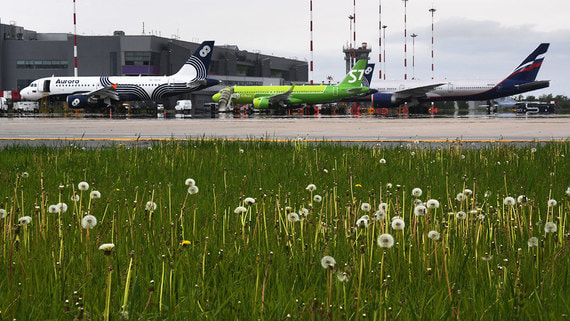 10 Russian airlines have opened ruble C-type accounts with banks to transfer payments for aircraft to leasing companies from unfriendly countries. These are "Aeroflot", "Victory", "Russia", S7 Airlines, Smartavia, "Yakutia", "Alrosa", "Yamal", "Polar Airlines", "Aurora". Five other carriers – Ural Airlines, Izhavia, Nordstar, Rusline, and I-Fly – are in the process of opening such accounts. A federal official close to the Russian government told Vedomosti about this.
Western sanctions imposed after the launch of a special military operation (SVO) in Ukraine include a ban on the supply of aircraft and spare parts to Russian carriers, as well as insurance and maintenance. By March 28, foreign leasing companies had to take away their aircraft from Russian operators. In response, the Russian authorities ordered the return of the aircraft only by decision of the government's commission on import substitution. As a result, a significant part of the aircraft remained in Russia – they are used for domestic transportation.
At the same time, airlines must pay lease payments under the "temporary order of fulfillment of obligations to certain foreign creditors" (Presidential Decree of March 5, 2022). According to the document, Russian individuals and legal entities that have obligations to creditors from unfriendly countries can pay for them in rubles by opening a special ruble account "C" in the name of a foreign creditor and transferring money at the Central Bank on the day of payment.
At Aeroflot, S7 Airlines and Smartavia confirmed to Vedomosti the opening of such accounts. "We are ready to fully fulfill our contractual obligations to lessors," said a representative of Aeroflot. "In accordance with government-approved procedures, S7 Airlines opens ruble accounts and offers lessors to receive payments in rubles," said a S7 Airlines spokesman. "Yes, we have complied with the presidential decree of March 5, 2022 to open such a special account," said a representative of Smartavia. Vedomosti also sent inquiries to other airlines.
However, money on the accounts of "C" in the address of lessors from unfriendly countries from Russian airlines has not yet arrived, a federal official told "Vedomosti". Contracts with leasing companies usually include letters of credit (in the amount of three monthly lease payments) and maintenance deposits, which significantly exceed a three-month letter of credit, he explained.
These letters of credit have been opened, Transport Minister Vitaly Savelyev said in March during a speech to the Federation Council. He estimated the total amount of letters of credit for all airlines at 200 billion rubles. Lessors have deposits and letters of credit in excess of current operating leases, a S7 spokesman told Vedomosti. "Therefore, to assume that the S7 will use the fleet for free for three months is fundamentally incorrect," he said.
Thus, the federal official continues, the terms of actually prepaid lease payments from different airlines can vary from three to eight months. After this time, carriers will begin to transfer lease payments to lessors from unfriendly countries to ruble accounts "C".
According to the consulting company Cirium, cited by the FT, Western leasing companies have handed over 515 Airbus and Boeing aircraft to Russian airlines (excluding foreign "daughters" of domestic leasing companies). Savelyev said in March about the same number – more than 500 aircraft with a residual value of $ 20 billion were demanded by lessors from Russian airlines.
Among the largest carriers, most aircraft are leased from foreign owners in the fleet of "Ural Airlines" and S7, according to the portal Frequentflyers.ru. For the second half of March, the entire Ural Airlines fleet (57 aircraft) was leased from foreign lessors. Of the 105 S7 aircraft, six were leased from GTLK and the rest from major foreign companies. Among them are Irish AerCAP, SMBC, Avolon, American Air Lease Corporation, etc. More than half (26 aircraft) of the low-cost fleet "Victory" belongs to foreign companies. The largest of these are China's BOC Aviation and Ireland's SB Leasing. Of the 177 foreign Aeroflot aircraft on Frequentflyers.ru, 110 were owned by foreign landlords.
Carriers prefer operating leases to financial ones. At the end of the financial lease, the aircraft becomes the property of the airline, so the lease payment rate is much higher than in the case of operating leases. The monthly operating lease payment for the most popular medium-haul aircraft of the Boeing 737 and Airbus A320 families among Russian carriers is $ 250,000-350,000, depending on the age and condition of the aircraft, says a source in the top ten. Such an assessment has a right to exist, but due to the age of the aircraft, the lower bar may be lower, said the director of the industry agency "Airport" Oleg Panteleev.
Now the possibility of settlements in foreign currency with foreign lessors in respect of aircraft is reduced to zero, says Forward Legal adviser Igor Kokin. Despite the fact that Russian airlines will transfer money to C accounts, foreign leasing companies cannot actually withdraw it – at least as long as sanctions are in place. Failure to comply with them provides not only administrative but also criminal liability up to imprisonment: in Europe – up to 10 years, in the United States – up to 20 years. Nevertheless, under Russian law, an airline that has transferred money for leasing to accounts "C" is considered to have fulfilled its obligations under the contract, the federal official emphasizes. "Leasing companies will withdraw funds when they have such an opportunity. In the meantime, the money will accumulate in the accounts, "he said.
Payments for aircraft leased from foreign "daughters" of domestic leasing companies (GTLK, VTB Leasing, Sberleasing, etc.) are now received by parent companies registered in Russia, Vedomosti sources at the two airlines say, and confirms federal official. There are no problems with such settlements, they say. A source in one of the Russian leasing companies told Vedomosti that the payment discipline of aircraft operators has not suffered since the beginning of the SVO.
Sberleasing and GTLK declined to comment, while VTB Leasing did not answer Vedomosti's questions.
Arina Litova participated in the preparation of the article