Red Wings will open a Superjet base in Omsk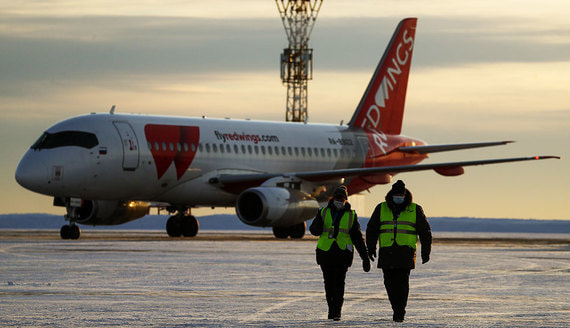 Red Wings has opened a fourth regional base for its Superjet 100 aircraft, a company spokesman said on December 6. It will be located in Omsk. Today, Red Wings' SSJ-100 aircraft are based at Yekaterinburg's Koltsov Airport (four SSJ-100s) and Chelyabinsk (one SSJ-100). Two more Superjet companies are based at Moscow's Domodedovo Airport.
Red Wings will be the first base airline at Omsk Airport. The first aircraft based at the airport – the regional liner SSJ-100. He will fly from Moscow to Omsk in late December-early January immediately after arriving from the factory, completing technical acceptance and entering the Red Wings operator's certificate, "a representative of the carrier told Vedomosti. He clarified that from January 2022 the company will operate flights on seven subsidized routes from Omsk – to Ekaterinburg, Irkutsk, Kazan, Makhachkala, Novokuznetsk, Samara and Ufa.
"In the spring-summer schedule of 2022 [планируется запустить рейсы] to Volgograd, Kemerovo, Mineralnye Vody, Perm, Simferopol, Sochi, Chelyabinsk, "he added. This season Red Wings flies from Omsk in three directions – to Ekaterinburg, Mirny and November.
Red Wings CEO Eugene Klyuchar, whose words are quoted in the release, added that in Omsk, the airline also plans to open a branch, which will employ some pilots and flight attendants.
The passenger traffic of Omsk airport in 2019 amounted to a record 1.4 million people. In 2021, this figure is expected to be 1, 5 million people.
In June 2021, the company also signed an agreement with Perm Airport "Great Savina" and the government of the Perm region to base its aircraft at this airport. But until the planes are delivered there, it is planned to base 1-2 cars there, a representative of the carrier told Vedomosti. Now there are seven Superjet 100s in the Red Wings fleet, in the future their number will be increased to 32 aircraft of this type. In addition to Superjet, the company operates 14 Airbus A320 / 321 aircraft and three Boeing 777 aircraft.
Red Wings in January – October this year, according to Rosaviatsia, carried 2,800,000 passengers. This is twice as much as in the same period in 2020. According to the results of 2021, the company plans to transport about 3 million people – at the level of "pre-pandemic" 2019, Klyucharov predicted in October. In the fall of 2020, the company began to replenish its fleet accumulated over several years in the state corporation "Irkut" (part of the AAC of the state corporation "Rostech") Superjet aircraft, at that time were unclaimed about 60 ships. Leasing of aircraft was secured by state guarantees of 140 billion rubles, issued in 2020 by the decision of the President of Russia.
In addition, specifically for the program "59 Superjet" in February 2021, the government approved a resolution № 245 – to subsidize the cost of the flight clock SSJ-100. Operating companies receive 37,500 rubles. for each flight hour in excess of the minimum flight time of 60 hours per month. Red Wings also counted on support for the purchase of SSJ-100 under Government Decree № 1212 (provides a state subsidy for lease payments of 199 million rubles for each Superjet) and under Decree № 301 (another 140 million rubles subsidy for a new aircraft spare parts warehouse and crew training), told in September 2020 in an interview with "Vedomosti" Klyucharov.
"Obviously, no one will do a giant hub in Omsk. There will be flights on the Superjet – a regional aircraft of relatively small capacity. But he will find his market – those who fly from Omsk or neighboring regions – "- said the analyst of" Aton "Mikhail Ganelina.