Importers began to refuse to supply cars to Russia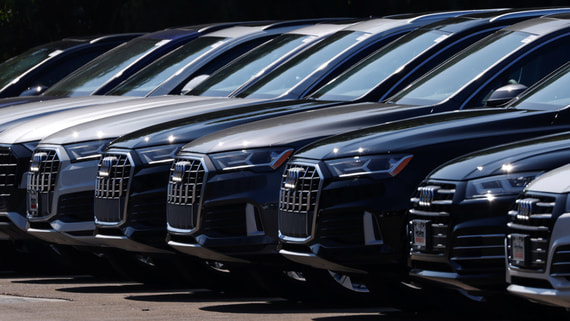 Due to the difficult situation "according to all indicators", the German brand Audi stops shipments of cars to Russian dealerships from February 24, according to a letter from the automaker to Russian partners. Vedomosti got acquainted with the document.
Cars that have passed Russian customs and are scheduled to be shipped from the importer's warehouse will be sent to dealerships according to previously formed documents, the company writes. Audi is going to inform customers about the resumption of shipments and price conditions.
A similar letter also came from the American concern General Motors (GM, which sells Chevrolet cars in Russia), sources in leasing companies told Vedomosti. Reports of similar content are also expected from Volkswagen (VW), its division "Volkswagen Commercial Vehicles", the Czech Skoda (owned by Volkswagen), knows one of the interlocutors of "Vedomosti". Another source says that the British Land Rover (owned by the Indian Tata Motors) has also completed shipments, and only those cars that were already on the road on February 24 will enter the Russian market. The situation is similar with the German brand Porsche.
The representative of the Volkswagen Group in Russia (there, in addition to VW, includes Audi, Skoda, Porsche) did not answer questions from "Vedomosti". Representatives of GM and Jaguar Land Rover could not be reached at the time of submission.
On the morning of February 24, Russia launched a special military operation in Ukraine. According to Russian President Vladimir Putin, the country was asked for help by the self-proclaimed Donetsk and Luhansk People's Republics (DPR and LPR), whose sovereignty Russia recognized on February 21. As the head of state explained, Russia is not going to occupy Ukraine, but will seek "to demilitarize and denationalize" this country.
In addition, on February 24, the official distributor of a number of foreign brands of road construction and special equipment "Rusbusinessavto" informed its partners in Russia that all imported equipment under the signed agreements must be paid in full on February 24. These are the products of SDLG, Higer, New Holland and Dieci, according to a letter from the distributor, which is in the "Vedomosti". New deals on SDLG and Higer have not been concluded yet, new deals on New Holland and Dieci – only in foreign currency and from the range available in stock, according to the document.
According to the results of 2021, 1.667 million new cars and light commercial vehicles were sold in Russia, according to the European Business Association (AEB). This is 4.3% more than in 2020. Most of them are locally produced. According to the AEB forecast, the market in 2022 should grow by 3.3% to 1.722 million units.
According to the results of 2021, the import of new cars of these brands amounted to 37,979 units, calculated on the basis of registration data, an independent consultant for the automotive industry Sergei Burgazliev. According to him, this is a small amount, and if no one joins those who have already announced the suspension of shipments, the Russian market may be short of about 40,000 cars in 2022.
In addition, several major Russian car dealers told Vedomosti that as of today, Setel Bank (part of Sber) has left only one car loan program in its portfolio and at the highest rate, and has zeroed the commission for dealers. This actually stopped sales under the program of this bank. Sber's representative did not answer Vedomosti's questions.
At the same time, sales and car sales at Rolf and Avtomir dealerships are regular, company representatives told Vedomosti.