Gazprom's deliveries abroad fell by almost a third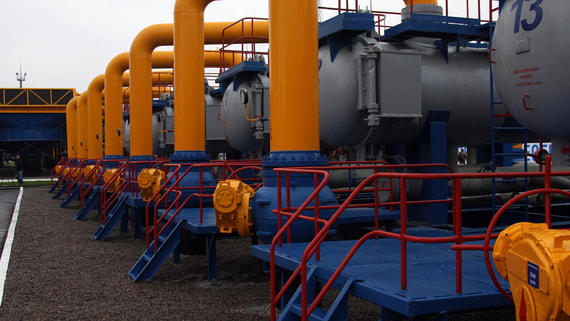 Gazprom's exports to foreign countries in the five months of 2022 decreased by 27.6% compared to the same period last year and amounted to 61 billion cubic meters. m of gas, the company said on June 1. As a result, in January-May it reduced production to 211.4 billion cubic meters. m, which is 4.8% (or 10.6 billion cubic meters) less than in 2021. The release emphasizes that gas supplies "are carried out according to confirmed applications" of consumers.
Production volumes were supported by a significant increase in consumption – by 17.7% – within Russia. Gazprom also reported that gas exports to China through the Power of Siberia gas pipeline had grown in five months. Absolute figures of deliveries in the Vedomosti company were not specified.
In the EU, pipeline gas from Russia comes through Nord Stream (55 billion cubic meters per year), the Yamal-Europe gas pipeline (33 billion cubic meters per year), through Ukraine's gas transmission system (GTS) under a long-term contract. Russia must supply at least 40 billion cubic meters along this route in 2022, as well as transit through Turkey via the Turkish Stream (part of the gas for Turkey also goes through the Blue Stream gas pipeline). In 2021, Gazprom exported 185.1 billion cubic meters abroad. m of gas, production amounted to 514.8 billion cubic meters. m. In the EU, according to the International Energy Agency, last year Russia exported about 155 billion cubic meters. m of gas, of which 140 billion cubic meters. m per pipe and 15 billion cubic meters. m – in the form of LNG.
The decline in exports has been observed since the beginning of this year. Already in January, Gazprom pumped only 1.6 billion cubic meters into the EU through Ukraine. m, or about 53.7 million cubic meters. m per day (with the contractual average daily volume of 109 million cubic meters). At the time, experts attributed the drop in pumping to a reduction in bids from buyers (Vedomosti wrote about this on February 16).
In January-April, against the background of the SVO in Ukraine, Gazprom's gas exports to foreign countries decreased by 26.9% over the same period in 2021 to 50.1 billion cubic meters. m. In the EU during this period was delivered only 35.2 billion cubic meters. m – 32.5% less than in January-April 2021
After the intensification of sanctions on Russia from April 1, 2022, by decree of the President of Russia, payments for gas exports to unfriendly countries that supported the sanctions were transferred to rubles. The lack of payment in rubles is the reason for Gazprom to stop supplying gas. For this reason, Gazprom has not supplied gas to Bulgaria, Poland, Finland and the Netherlands since the end of April.
And since May 11, Ukraine has rejected all applications of the Russian company for the transit of energy resources through the gas metering station (GIS) "Sokhranovka" (this route goes through the Donbass), transit is carried out only through the GIS "Sudzha". In May, applications for transit of about 1 billion cubic meters were approved through Sokhranovka. m, according to Gazprom.
Alfa-Bank expects that gas supplies to foreign countries will amount to a little over 136 billion cubic meters by the end of the year. m, says senior bank analyst Nikita Blokhin. According to him, May is a transitional month, when due to the weather factor gas is no longer spent on heating, but also on air conditioning is not yet spent. This, combined with the high rate of UGS occupancy (according to Gas infrastructure Europe, it was 47% full on May 30, containing 50.3 billion cubic meters) leads to a sharp drop in gas demand in the European market.
"But already in June, against the background of the need to spend energy on air conditioning, gas demand may recover. Therefore, it is too early to revise the final forecasts, "the expert stressed.
Blokhin added that in the event of restrained growth in demand in the domestic market, Gazprom's gas production in 2022 could fall by 6.7% to 480 billion cubic meters. According to the company itself, 514.8 billion cubic meters were extracted last year.
In May, the export of pipeline gas to foreign countries amounted to 10.9 billion cubic meters, said the director of the corporate rating group ACRA Vasily Tanurkov.
He also believes that the current decline is seasonal, and in the summer months, exports to foreign countries will remain at 11 billion cubic meters per month. Tanurkov also noted that in the conservative scenario, in which supplies amounted to 11 billion cubic meters. m per month will remain until the end of the year, exports to foreign countries will be about 138 billion cubic meters. m. "In this case, we can expect a drop in production by 30 billion cubic meters. m ", – he stressed.
According to BCS Global Markets senior analyst Ronald Smith, if the weather is the same as in 2021 by the end of the year, total exports will be only slightly lower than last year.
Alexei Grivach, deputy director general of the National Energy Security Fund, does not consider the current decline in exports critical for the company. "Such a decline in demand can be relatively easily adjusted in the normal course of business. In addition, the decline in volumes is accompanied by a much sharper increase in export revenue. "From a commercial point of view, this situation may even be beneficial to Gazprom, as operating costs are falling and profits are rising," he concluded.
According to the ICE exchange, on June 1, gas at the Dutch TTF hub cost about $ 990 per 1,000 cubic meters. m.