Gazprom wants to build a third skyscraper in St. Petersburg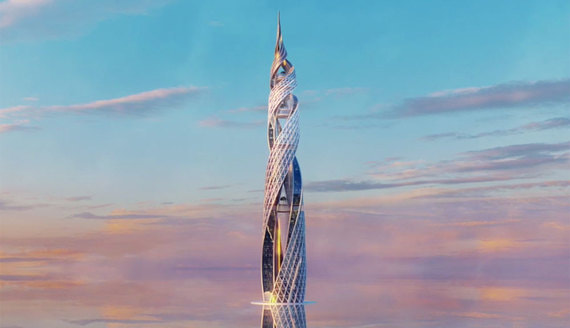 Gazprom is discussing with the St. Petersburg authorities the possibility of building a third 555-meter-high skyscraper in Lahti (Primorsky District of the city), where its headquarters are now located. This follows from a company announcement posted on its official website. It also says that the total area of ​​†‹вЂ‹ the facility may be about 179,000 square meters. m. The amount of investment required for its construction, the company does not disclose. Vedomosti sent a request to Gazprom.
The new skyscraper will be part of the architectural project together with other similar objects of the company – the business center "Lakhta Center" (462 m) and the not yet built "Lakhta Center 2" (703 m). Gazprom announced plans to build the latter in May 2021. In 2018, Gazprom Neft's investment in the first skyscraper was estimated at 1207 billion rubles.
According to the company, "Lahti Center 2" should become the second tallest building in the world after the skyscraper "Burj Khalifa" in Dubai. At the same time, Gazprom clarified that the construction of the second skyscraper will be carried out at the expense of project financing, and the project will be supervised by a structure not related to Gazprom.
Gazprom has gradually relocated its structures to St. Petersburg from Moscow over the past 10 years, but the decision to change the place of registration of the company was made by the annual meeting of shareholders only in June 2021. In Moscow, the headquarters was located on the street. Tent in the southwestern part of the city, the other large units were located in other parts of the capital.
Gazprom Neft was the first to move to St. Petersburg in 2011. The company's representative explained the company's decision to Kommersant by the growth of the company's business, with which Moscow's infrastructure allegedly could not cope. In 2012, Gazprom began building the Lakhta Business Center to house its subsidiaries. It was used at the end of 2018, however, finishing work is still underway inside the building.
Initially, Gazprom was considering building its high-altitude headquarters in the Malaya Akhta area, near the city's historic center, but the project did not receive approval from St. Petersburg residents and authorities. After that, the skyscraper began to be designed on Lahti, located on the shores of the Gulf of Finland, away from historic buildings.