Gas prices in Europe have fallen sharply due to expectations of additional LNG consignments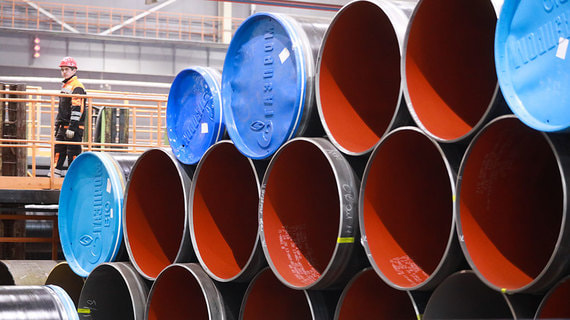 Spot gas prices in Europe on December 24 fell by 18.5% to the previous day, according to the ICE exchange. At the most liquid European hub TTF in the Netherlands, January futures on Friday fell to $ 1250 per 1,000 cubic meters. m (at 18.23 Moscow time – $ 1281), on the eve of trading closed at $ 1573.
Earlier this week, European gas hubs saw a sharp rise in prices. And on December 21, adjusted by including a sharp cold snap, they reached an absolute all-time high of $ 2,200 per 1,000 cubic meters. m. As a result, the traditional Asian gas premium (higher gas prices in Asia) changed to European, and tankers with liquefied natural gas (LNG) began to leave the EU en masse instead of Asian markets, with some changing course in the middle of the route. Vedomosti "wrote about it on December 22). According to Bloomberg, in just one day from December 22 to 23, the number of LNG tankers heading for Europe from the United States increased one and a half times and on December 24 amounted to 15.
At the same time, Europe has a record shortage of underground gas storage facilities (UGS) this winter. On December 24, Gazprom reported that Europe had already taken more than 41% of the volume loaded this year from storage. According to Gas Infrastructure Europe, on December 22, storage facilities were only 57% full, they contained about 62 billion cubic meters. m of gas. Last year, on the same date, UGSs were 77% full.
Russian market President Vladimir Putin said at a large press conference on December 23 that he fueled market demand and the resale on the spot of Russian gas purchased by European partners from Gazprom under long-term contracts. "We supply gas to Germany under long-term contracts, and the price is three, four, six or seven times cheaper than on the spot. Even reselling 1 billion cubic meters. m of gas, you can earn almost $ 1 billion, "- he said.
Following news of the imminent entry of additional LNG into the EU market, as well as amid rising wind power generation in Europe and easing weather conditions, gas quotes have gone down. In just a few days since December 21, gas has fallen in price by almost $ 1,000 per 1,000 cubic meters. m.
This, in turn, was one of the reasons for the decline in quotations of shares of Russia's largest oil and gas companies. "On Thursday, December 23, the Russian stock market declined markedly. Investors reacted to the fall in gas prices, which affected the shares of oil and gas companies – and they pulled the rest down. Friday morning session is held with overwhelming sales, "the review of Alfa Capital said.
According to the results of trading on Thursday, the Masbirji index fell 1.13% to 3704.6 points, the RTS lost 0.88% to 1587.87 points. At 18.50 Moscow time on Friday, the Masbirzhi index was already 3702.6 points (0.05%), the RTS – 1584.15 points (0.23%). Shares of Novatek and Gazprom lost almost 2% during the day, but are currently 0.22% and 0.32% cheaper than yesterday's close, respectively.
Of the major Russian companies "most sensitive" to changes in spot prices for gas "Gazprom" and "Novatek", told "Vedomosti" head of market analysis "Discovery Broker" Anton Zatolokin. Shares of other large companies, he said, respond to other factors.
Quotes of Russian oil and gas companies are not as sensitive to the dynamics of spot gas prices in Europe, as, for example, securities of metallurgical holdings to metal prices, agrees senior analyst at Aton Andrei Lobazov. "The reason is long-term fixed-price contracts, which account for most of the gas supplies," he said. In this case, the decrease of 1.5-2 percent, in his opinion, "can not be called significant," especially against the background of strong dynamics in previous days.
According to Zatolokin, the oil and gas sector is now significantly affected by geopolitical factors. The analyst points out that, despite the rapid rise in spot prices in Europe, stock quotes of Gazprom shares remain underestimated. According to him, the company is not able to take full advantage of favorable market conditions due to the aggravation of the foreign policy situation around Ukraine. He explains that Gazprom's shares usually react strongly to negative news in the political field, as well as to reports of new sanctions risks.
Zatalokin added that the current decline in spot gas prices in Europe from historical highs – "a step towards balancing the market." According to him, in the end it is beneficial for both companies and investors.
He added that foreign investors are now "treating the Russian market with some caution" over the possible imposition of new sanctions. "However, the potential sanctions pressure affects the banking sector more than the oil and gas sector," the expert concluded.