Belousov called the EU's carbon tax on fertilizers a barrier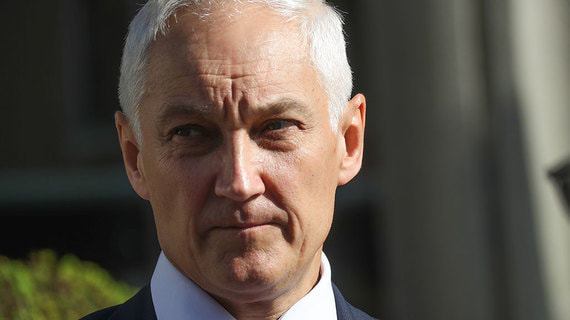 The introduction by the European Union (EU) of a cross-border carbon tax on fertilizers for Russian exporters could be tantamount to a barrier duty. This was stated on December 10 by First Deputy Prime Minister of Russia Andrei Belousov at the international export forum "Made in Russia – 2021".
He reminded that Russia's trade with the EU is about € 100 billion a year, with carbon levies spread over five groups of goods – ferrous metals, aluminum, cement, fertilizers and electricity.
"If this is converted into import duties, the total amount of these goods is about € 7 billion, and this payment should average about € 1 billion, a little more. That's about 17 percent. <...>For mineral fertilizers, sorry, that's 37%. This is practically a prohibition duty. In fact, there is a barrier to trade in mineral fertilizers with Europe, "Belousov said (quoted by Interfax).
The First Deputy Prime Minister added that against this background, Russia is working on measures in response to the introduction of a cross-border fee. Belavusov's office and the press service of the Ministry of Trade did not respond to Vedomosti's inquiries at the time of publication.
According to Vedomosti, in December 2019 the European Commission adopted the European Green Deal, aimed at decarbonising the energy sector and the economy as a whole. According to the document, by 2050 the EU countries must become carbon neutral, that is, the amount of CO2 emissions will reach a level when it will be fully absorbed by ecosystems. The European Union also plans to impose additional customs duties and use quotas on carbon emissions to protect its market from high-carbon products.
In July 2021, the European Commission (EC) reported that the range of goods imported into Europe that will be subject to carbon tax includes steel, pipes, cement, aluminum, nitrogen fertilizers and electricity. The reporting mechanism on the carbon footprint and the tax base will work in a test mode from the beginning of 2023, and the system will be fully operational from January 1, 2026 – then they will start charging the fee.
The main Russian exporters of nitrogen and nitrogen fertilizers to the European market are Akron, Uralchem, Eurochem and Fasogra.
A Uralkhim spokesman told Vedomosti that the company supplies about 1.5 million tons of nitrogen fertilizers (including ammonia) to the EU every year. He said the company views the EU's transboundary carbon tax "as a protectionist measure". "But it is impossible to assess whether it will be a barrier, because the parameters of the tax calculation are currently missing," he added, adding that the tax may be higher in those sectors where the EU's needs are met by its producers. In "Akron", "Eurochem", "Fasogra" did not respond to requests from "Vedomosti".
The data, based on Belavusov, probably assume the emission of 2 tons of CO2 per 1 ton of nitrogen fertilizers and the cost of the emission quota of € 90 per 1 ton, Sergei Grishunin, head of the NRA rating service, told Vedomosti. In this case, the cost of CO2 emissions, according to his estimates, does approach 35-37% of the cost of nitrogen fertilizers.
VTB Capital analyst Elena Sakhnova notes that, according to the investment bank, in 2026 Akron will pay no more than 15% of export revenue as the EU's carbon tax. ), and "Phosagro" – no more than 5%. The calculations are based on the cost of CO2 of $ 100 per 1 ton, she explains. The difference in calculations can be explained by the fact that from 2026 companies will not pay for all carbon emissions, but only for emissions that exceed the European benchmark – that is, the standard set for each type of product. In 2026, according to VTB Capital, companies will pay only for 0.5 tons of CO2 per ton of goods (although emissions generally reach 1.9 tons of CO2 per ton of output). But the conditions for emissions will gradually tighten and by 2035, for example, for "Akron" fee will reach 37% of revenue, confirms Sakhnov.
About 3.5 million tons of nitrogen and nitrogen fertilizers, including ammonia, are delivered from Russia to Europe every year, Sakhnov said. This is about 12% of total exports of nitrogen-containing products. According to the NRA, the EU accounts for 2.5 to 3 million tons of supplies of Russian nitrogen fertilizers and 1.5 million tons of complex nitrogen-containing fertilizers. It will be difficult to redirect all this volume to other markets, says Grishunin.
But so far analysts do not see a serious problem in introducing a carbon tax for Russian fertilizer exporters. Fertilizer prices in the European market are rising, and this growth will partially offset the losses of Russian companies or their investment in technology to decarbonize production, says Sakhnov. Rising fertilizer prices in the EU are inevitable, as suppliers will try to reorient supplies from Europe to other regions after the introduction of the cross-border fee, Grishunin explains. At the same time, own production in Europe against the background of expensive energy will most likely not be able to cope with the task of meeting domestic demand, he said.
In the autumn of 2021, nitrogen fertilizer prices reached historical highs amid high gas prices in Europe: urea on FOB Black Sea supply in mid-November cost $ 868 per 1 ton, urea-ammonia mixture – $ 633 per 1 ton ("Vedomosti »Wrote about it).
According to Sakhnov, whether Russian companies will retain their share in the global fertilizer market will depend on their activity in reducing CO2 emissions during production. They will have to increase energy efficiency, optimize greenhouse gas emissions through the installation of CO2 capture systems and the introduction of new technologies, buy "green" ammonia (raw materials for fertilizer production) and green certificates of electricity (confirming energy production). In addition, they can reduce the carbon footprint by planting trees and creating so-called carbon farms.
Sakhnova added that, in her opinion, only the development and implementation of a national system of payment for CO2 emissions will make it possible to raise funds from enterprises in the Russian budget, not in the EU budget. "It would be advisable to pay a carbon tax in Russia. If the mechanism of state support of exporters to the European Union is formed, the negative economic consequences of the introduction of cross-border carbon regulation can be minimized, "the Uralkhim representative agrees.