Before the New Year, airports do not cope with the flow of gifts.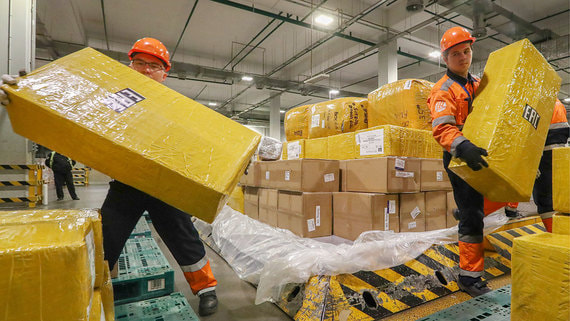 The cargo capacity of Russian airports is not coping with the volume of deliveries, complained to "Vedomosti" in the logistics companies PEK, Boxberry, Pony Express and DPD.
In November-December, sales in Russian online stores and marketplaces increased 3-4 times compared to September and October, said Director of Business Unit PEK: Easyway Maxim Gubanov. Due to this, the terms of air delivery to remote cities of Russia, such as Magadan, Yuzhno-Sakhalinsk, Vladivostok, increase from 3 to 14 days. In the absence of excitement, the average time is usually 1 day, a maximum of 2, says the top manager of the fuel and energy sector.
According to the head of the production department of Boxberry Alexander Levin, such problems regularly occur at Sheremetyevo Airport. Now the parcels can wait in line for registration and inspection for up to 24 hours, explained the director of operations of DPD in Russia Anna Matveeva.
Shippers have confirmed delivery delays. Last month, cargo from Moscow was delayed, says the owner of the Vladivostok chain of stores "Fish Island" Irina Kuzmina. The company orders perishable food products from Moscow (butter, dairy products, etc.). According to her, "the delay is one or two days, sometimes more, but it is critical for perishable products." Logistics organizations attribute the delay to the large volume of traffic, which leads to increased logistics costs and the cost of products, says Kuzmina.
According to the head of FEC: Express Sergei Grishunin, in 2021, an average of 20% increased costs for air freight and, accordingly, tariffs for shipping to remote regions. The cost of delivery from Moscow to Vladivostok increased by 35%, from 82 rubles. up to 111 rubles. for 1 kg, in Petropavlovsk-Kamchatsky – twice, from 148 rubles. up to 292 rubles. for 1 kg, in Magadan – by 5%, from 228 rubles. up to 238 rubles. for 1 kg.
Nikita Lelin, head of Lamoda's logistics and partner development department, says that in areas where delivery difficulties may occur, the company is temporarily shutting down air delivery and using alternative chains so as not to break deadlines.
But a representative of AliExpress Russia assures that the increase in air traffic "will not affect the delivery of orders from AliExpress." He recalled that in the last few years, the company has launched new cargo flights to major Russian cities, including a "special flight from Hong Kong to deliver electronics." "Before the high season of AliExpress, Russia is taking special measures to control delivery: this year the partnership logistics has been strengthened 4 times," said the interlocutor, explaining that the number of cargo flights with AliExpress goods has doubled to deliver foreign orders.
Herman Zverev, President of the All-Russian Association of Fishermen (WARPE), noted that the premium segment in the fish market is estimated at 250 billion rubles. (60% of imports), and for its delivery is usually used air transport. The fourfold increase in air traffic "may have little effect on the Russian component of the premium segment," he said. But if it continues in January, then the impact will be more significant, says Beasts.
Sheremetyevo has two terminals for cargo and mail handling: Moscow Cargo (42,000 square meters) and Sheremetyevo Cargo (28,000 square meters), but the capacity traditionally fails during the peak season, Gubanov said. The construction of the second stage of the Moscow Cargo, which will double its capacity to 380,000 tons a year, has been postponed. The first stage of construction will begin in 2022, and the second – after 2030.
An acute shortage of freight infrastructure has arisen at the airport "Yelizovo" in Petropavlovsk-Kamchatsky, said a representative of Boxberry. "Freight terminal with an area of ​​3380 square meters. m does not work around the clock and employees do not have time to process the entire incoming traffic per shift, there are long queues for the issuance of goods, "- he explained.
According to Boxberry, in 2020, two flights from Moscow went daily to Petropavlovsk-Kamchatsky and Yuzhno-Sakhalinsk, and in 2021 – only one. In December 2020, a plane containing 100 cubic meters flew from Moscow to Petropavlovsk-Kamchatsky. m of commercial cargo. Now the flight is carried out by an aircraft with a load of 60 cubic meters. m.
The Novosibirsk airport "Tolmachevo" also lacks capacity, the representative of the fuel and energy complex noted. Waiting for a seat at the terminal can last from 6 to 24 hours.
Denis Chasnakov, director of the international development department at Pony Express, believes that cargo terminals should be located in the immediate vicinity of airports or on their territory. The quality of the existing facilities leaves much to be desired, he adds. Airports are trying to save human resources, and courier services are forced to maneuver between customer tariffs and increased pressure from the labor market, says Chesnakov.
A representative of Domodedovo Airport told Vedomosti that the volume of cargo has traditionally increased in December and the traffic at Domodedovo has increased by 30% compared to November. "The air harbor is operating normally and can handle the volume of traffic," he said.
According to the representative of the holding "Airports of the Regions", perishable cargo is issued primarily within a few hours after the arrival of the flight, and courier services – on the same day or the next. "In order to regulate the flow in Yalizava, we are coordinating the slots of cargo flights on a regular basis. The cargo flies and arrives without delays, "he said. Exceptions, he said, can occur only on flights to other airports in the Kamchatka Territory, where weather conditions are constantly making adjustments to the schedule.
According to the general director of the airline AirBridgeCargo (part of the "Volga Dnieper") Denis Fisenko, now transportation is complicated by the amicron strain of coronavirus. "Passenger companies, which also carry goods, were forced to cancel flights due to restrictions imposed by the authorities of Europe, China and the United States. In November-December, due to this, a lot of transit cargo was accumulated at the airports of the Moscow air hub, which passenger carriers simply did not have time to take out. And the airlines were not contracted to take him out in time, "he told Vedomosti.
This situation, according to Fisenko, has led to a local failure in the handling of cargo at airports. According to him, cargo airlines do not have difficulties with delivery both abroad and in Russia: "Today we make many flights to Magadan, where we traditionally deliver products, as well as to Yuzhno-Sakhalinsk, Vladivostok, Petropavlovsk-Kamchatsky and Khabarovsk. On average, 4-5 flights a week are made on Boeing-747 ". But Far Eastern airports, according to Fisenko, are really experiencing difficulties in terms of the volume of cargo received and the speed of its processing.
Experts say that the peak demand for air cargo delivery has historically been in the IV quarter and is associated with seasonal sales, Christmas and New Year, but in 2021 it intensified.
"Colossal problems have arisen in maritime transport, where the terms of loading and unloading containers have increased. Shippers have partly redirected flows to other modes of transport, but there are also many problems. For example, several checkpoints were closed on the Russian-Chinese border, which led to huge queues, "Oleg Panteleev, executive director of the Airport Agency, reminded.
NRA's junior director of corporate ratings Alla Yurova says the situation is exacerbated by rising demand for air travel due to increased e-commerce turnover and rising prices for alternative modes of transportation while deteriorating their affordability. According to the NRA, from 2020 in December, trucking reaches its maximum value for the year (in 2018 and 2019 – in November). In 2020, the monthly maximum flow of Russian airlines in December reached 128,700 tons, which is 11% of the annual figure (in 2018 and 2019 – 9%). Air freight of Russian airlines in December may reach 155,000 – 160,000 tons, for the year – 1.49 million tons, "- said Yurova.
Panteleev believes that the transfer of air cargo to other modes of transport is often impossible or impractical. "The express port has a certain delivery time. Postal items and parcels of e-commerce also often have a stated delivery time, which can be maintained only when using air transportation, "he says.
In general, according to experts, there is no simple solution to the problem. "Of course, as delivery prices rise, there may come a time when it will be more profitable for airlines to carry cargo than passengers. But the cargo, as a rule, flies in one direction, so the threshold of economic feasibility will be high, because the plane will fly back with a load far from optimal, "- said Panteleev. It is also difficult to increase the capacity of airports in a short time, because even if there is a sufficient amount of mechanization, there is often a lack of staff, the expert said.
Aeroflot and S7 did not respond to Vedomosti's inquiries. Also entered the airports "Sheremetyevo", "Vnukovo", "Pulkovo", "Zhukovsky", in the holding "Novoport" (manages 21 airports).